Automotive
Buying a five-seater SUV between Rs 15-20 lakh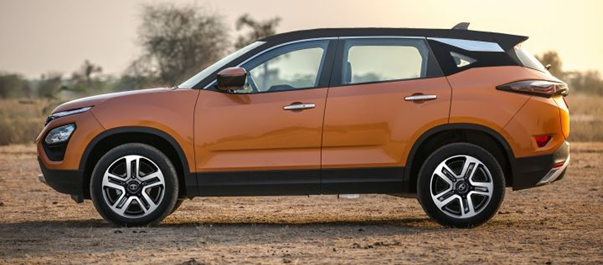 With so many SUV car models on Indian market and new designs being introduced in short intervals, it is really a difficult task to choose a car. It is very important to make a market survey for the perfect car before you invest your hard-earned money. Setting up a budget and selecting specific features can make the things easier for you. Here we will recommend you 4 five-seater SUV between Rs.15-20 Lakhs which are listed as the top budget cars in India. Let's have a look.
Tata Harrier
This car was introduced in Indian market on 23 January 2019. Harrier by Tata is a diesel car powered by a 1956cc, 4 cylinder unit which produces a peak power of 138bhp at 3750rpm. It can provide a mileage of 17 kmpl, There are four variants of Tata Harrier available in the market: XE, XM, XT, and XZ with a starting range of Rs.12.91 lakh and up to Rs.16.77 Lakhs. The 3rd and 4th model is available fairly suits your budget. Petrol driven Harrier is also expected to be launched by 2020.
Hyundai Creta
Hyundai Creta has numerous options to fulfil your SUV car needs with its petrol and diesel-driven models. Creta has all total 18 variants of cars with different specifications combo. The engine displacement is either 1396cc or 1591cc with a mileage of 14-22 kmpl depending upon the fuel used. The ex-showroom price of 1.6 SX Automatic Diesel, 1.6 SX Option Diesel, 1.6 SX Option Executive Diesel models starts with Rs.15.28 Lakhs.
Mahindra Scorpio
Mahindra Scorpio offers greater engine displacement than the above models with 2179cc but with a mileage of 16 kmpl. It produces a power up to 140 bhp at 3750rpm. It is equipped with micro-hybrid technology along with a low-range 4×4 system which keeps Scorpio in a distinct position among a wide variety of SUV cars. This diesel-driven car has a total of 9 variants in the market that are considered as top family cars in India that ranges from 10-16 Lakhs.
Toyota Innova Crysta
Another car with finest interiors is Innova Crysta by Toyota which was first introduced in India back in 2016. Innova has both petrol and diesel-driven engines with a displacement of 2755cc (diesel) and 2694/2393cc (petrol). Despite a heavy engine perfectly suitable for long drives, Innova Crysta provides only 10-13 kmpl. Toyota offers a wide range of variants of Innova and different variants of the car ranges from 14 to 23 Lakhs.
Nissan Terrano Overview
Nissan Terrano is a smart and practical compact Sports Utility Vehicle (SUV) that owes its origin to its French cousin, the Renault Duster. But visually, there are many points of distinction. Barring the rear fender and the roof, none of Terrano's body panels are identical to those of the Duster. It stays true to its Nissan DNA by a generous display of chrome on the grille and trapezoid chrome strips on either side of a bold Nissan logo. The other notable differences prima facie are the aluminium-brushed door handles, roof rails and the large tail lamp cluster which fleshes up the rear much more than that of the Duster. The fender at the back is a feature that both share and this coupled with the flared wheel arches gives it a domineering SUV appeal. Nissan Terrano Overview